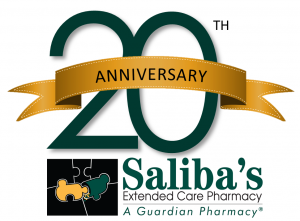 2019 marks Saliba's Extended Care Pharmacy's 20th year providing high quality services to care facilities.
Since inception, Saliba's has worked hard to provide world-class service to our caregivers and residents and a world-class workplace for our staff.
Established in 1999, Saliba's started with two employees in the back room of a retail pharmacy in El Mirage. Today, we have more than 215 employees in a 28,000 square-foot building in North Phoenix and an 8,000 square-foot building in Tucson. Over the years, we have stayed on top of industry trends and new technology to ensure we are providing our caregivers and patients with the safest and most affordable packaging while minimizing the risk of error.
We want to celebrate our 20th anniversary by thanking all the residents and caregivers in our communities that have supported us throughout the years. It is an honor and a privilege to serve them, and we look forward to providing outstanding care for many more years.
Please join us in our celebration by reaching out to us for additional information on our services and offerings.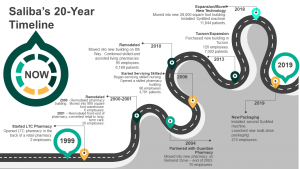 Click the above image to enlarge