According to MedicareAdvantage, adults aged 65 and older make up a vulnerable population in the United States that face heightened mental health risks due to the COVID-19 pandemic. Additionally, senior citizens are more likely to have chronic health issues and isolated living conditions, which can add tremendous amounts of stress during these uncertain times.
Currently, older adults may be feeling lonelier, anxious, angry, depressed or sad than usual.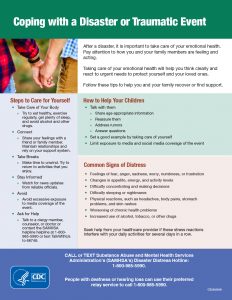 Click here for a PDF outlining skills for coping with a disaster or traumatic event
MedicareAdvantage, the CDC and SAMHSA offer some great resources and information on managing mental health during this particularly stressful time.
Additional resources:
Senior Guide to Mental Health During COVID-19
CDC Taking Care of Your Emotional Heath
CDC Managing Stress and Anxiety