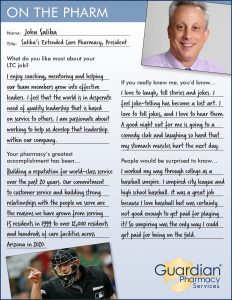 Why are you passionate about LTC pharmacy? 
Our core purpose (the reason we exist) is Helping the Caregiver. Serving caregivers is an awesome privilege, and I'm in awe of the compassionate work done by the nurses, medication technicians, licensed caregivers, CNAs and others who care for the residents in the facilities and communities we serve. It is our goal to do all we can to make their jobs easier every day so that they can spend less energy dealing with pharmacy issues in order to devote more attention to caring for their residents and patients.
What do you like most about your LTC job?
More than anything, I enjoy coaching, mentoring and helping our team members grow into effective leaders. I feel that the world is in desperate need of quality leadership that is based on service to others. I am passionate about working to help us develop that leadership within our company.
Your pharmacy's greatest accomplishment has been…
Building a reputation for world-class service over the past 20 years. I believe that our commitment to customer service and building strong relationships with the people we serve are the reasons we have grown from serving 15 residents back in 1999 to over 12,000 residents and hundreds of care facilities across the state of Arizona in 2020.
Your pharmacy's culture is…
Our culture is built upon our core concepts. These include our core purpose of Helping the Caregiver; our core values of Compassion, Dedication, and Enthusiasm; and our strategic anchors of Customer Service, Flexibility, and Education. Everyone on our team is expected to know and demonstrate all these core concepts. We have a culture of compassionate service to the caregivers and residents we serve and to our teammates as well. We care very deeply about each other and about adding value to our community.
What's your favorite part about assisting communities and residents?
I enjoy solving problems for our caregivers, both acutely and proactively. I enjoy listening to customer pain points and developing innovative approaches to help mitigate them.
What's the best piece of advice you could give customers?
The pharmacy-community relationship is a partnership. Communication in both directions is critical to an effective partnership. Communicating things like census changes, order changes, service failures, problems to be solved, etc. is critical. If in doubt communicate – you cannot overcommunicate in a good partnership.
If you really knew me, you'd know…
I love to laugh, tell stories and jokes. I feel joke-telling has become a lost art. It has been replaced by memes and reposted sarcasm. I love to tell jokes, and I love to hear them. A good night out for me is going to a comedy club and laughing so hard that my stomach muscles hurt the next day.
If you could have dinner with one famous person from any period in history, who would it be?
Fred Rogers. Mr. Rogers was a great example of what one man can accomplish with a purpose-driven life. He lived his life in service to others and the happiness and joy that he derived from that is an inspiration to me.
If you aren't at work, you are…
I try to get up to Lake Tahoe in California as much as I can. I enjoy hiking, biking, boating, and relaxing by the lake. It is the most beautiful place I know.
People would be surprised to know…
I worked my way through college as a baseball umpire. I umpired city league and high school baseball. It was a great job because I love baseball but was certainly not good enough to get paid for playing it! So umpiring was the only way I could get paid for being on the field.