Prior to the COVID-19 outbreak, Saliba's had planned a company barbecue to take place in March. Due to the pandemic, the event was cancelled to protect the health and well-being of our employees. But just because we couldn't enjoy this event didn't mean we couldn't treat others. Rather than cancel the order, our Operation Director, Jennifer Nabors, suggested we donate the food.
The pharmacy donated hundreds of hot dogs, burgers and sides to the Phoenix Rescue Mission to help feed people facing hunger and homelessness.
Additionally, Jennifer organized a team event filling plastic Easter eggs with individually wrapped candy to donate along with the food. The team welcomed the distraction and practiced social distancing while participating in the activity.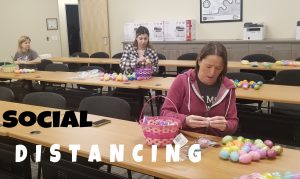 Desiree Negron, one of our customer service liaisons, delivered the food to the Phoenix Rescue Mission.
Saliba's appreciated being able to help the homeless community during this pandemic and would like to thank the Phoenix Rescue Mission for their efforts to care for the homeless population in Arizona.