A blanket may seem like a simple gift but think about the warmth and comfort your favorite blanket provides when you are cold or lonely. That is what inspired the staff at our Oro Valley location to come together and create homemade blankets for the residents of Family Loving Kare, a group of homes that Saliba's services.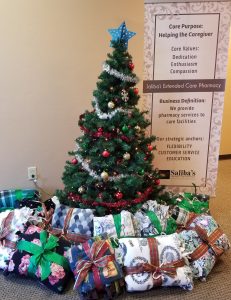 Our employees enthusiastically donated their time to create no-sew flannel blankets in a variety of whimsical patterns and vibrant colors, allowing residents to choose blankets during a donation event led by members of our team. Not only did the residents love the gifts, but the employees had a great time making them!
You can see by the faces of these residents just how much they enjoyed feeling the comfort of a new blanket!